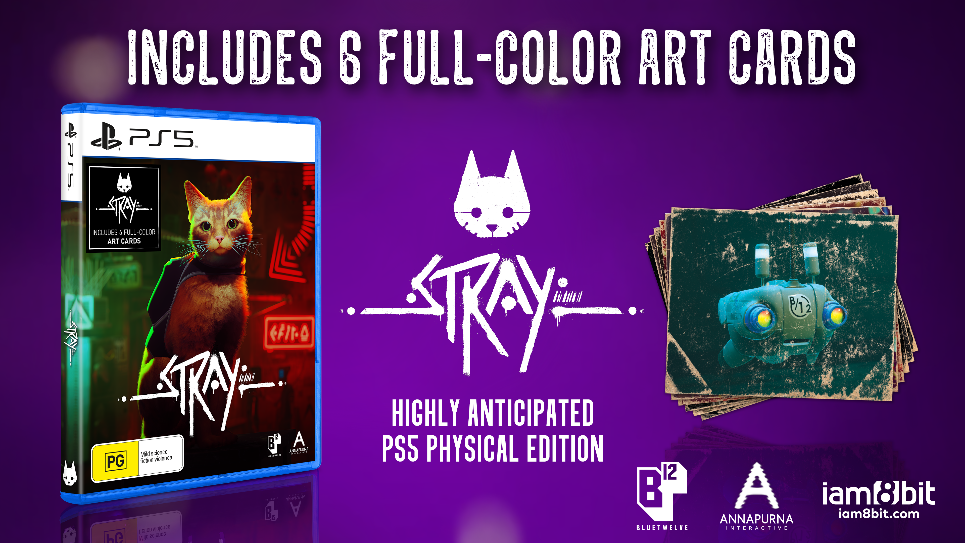 Publishers Annapurna Interactive and iam8bit, in distribution partnership with Skybound Games, announced that physical edition pre-orders for Stray, the third-person cyberpunk cat adventure game developed by BlueTwelve Studio, are now live.
Pre-orders for the retail edition (PlayStation 5) go live at your local retailer starting today and will ship on 20th September 2022.
You'll be able to jump into the world much sooner with the digital version available from July 19 via PlayStation Store and as part of the game catalogue lineup for PlayStation Plus Extra and Premium members.
Article continues after this ad
Advertisement
Check out this new trailer showcasing the physical editions.
In the game, you take the role of a stray cat who must untangle an ancient mystery to escape a long-forgotten cybercity amidst the detailed neon-lit alleys and the murky environments of its seedy underbelly.
Along the way, the cat befriends a small flying drone, known only as B-12. With the help of this newfound companion, the duo must find a way out.
Explore some of the gameplay in this video.
Pre-order the Stray retail edition for PlayStation 5 at $59.95 AUD which also includes six full-colour art cards along with a physical copy of the game.
Article continues after this ad
Advertisement
The retail edition will ship on September 20, 2022.