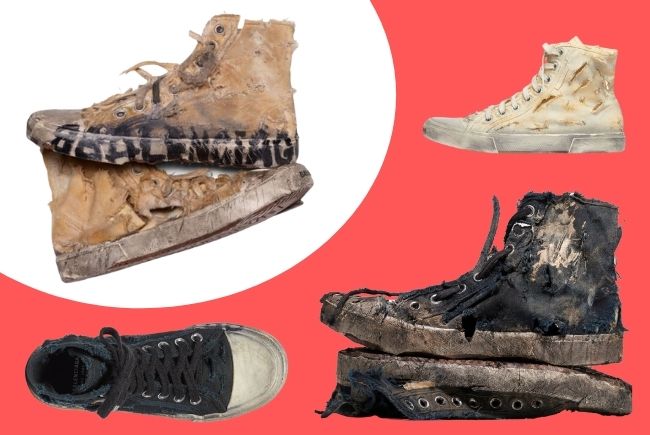 If you're still struggling to understand why people would pay good money for ripped and distressed clothes, this latest shoe for sale will do your head in.
French luxury fashion brand Balenciaga is selling sneakers that look like they've been through a fire, though sadly not with a fire sale price to match.
Their Limited Edition Paris Hightop Trainer is being sold in a "Full Destroyed" style that has massive rips and discolouring to the fabric and rubber sole.
Article continues after this ad
Advertisement
They look like they're ready to fall apart even before you get them on your feet. And we're not sure how long they'd last once you started wearing them.
And the cost? Only $2,550!
The internet understandably exploded, thinking the brand must be trolling everyone. So it responded with plenty of its own trolling humour.
My Balenciaga distress shoes for sale 😁 pic.twitter.com/xYWk4QUcsS

— Smily😁face😄 (@SmileyySmiles_) May 11, 2022
Balenciaga Airlines ✈️ pic.twitter.com/Y7Fr32k8Pk

— Aeroporto da Depressão (@AeroportoD) May 10, 2022
Article continues after this ad
Advertisement
No one:

The new Balenciaga sneakers: pic.twitter.com/AvHqJPZjc3

— Saint Hoax (@SaintHoax) May 10, 2022
Balenciaga soon releasing dirty feet for $2000 pic.twitter.com/RAEnaAJ5y9

— S.F.N.R🦁 (@kassamiizac) May 11, 2022
🗑 company @BALENCIAGA pic.twitter.com/EkigJ7crEG

— Mike (@_mikepatterson_) May 10, 2022
The funniest part for us is that the care instructions say to "wipe with a soft cloth". Uh….how would you even tell the shoe was dirty? What could a soft cloth actually do?
Article continues after this ad
Advertisement

Main images: Balenciaga website