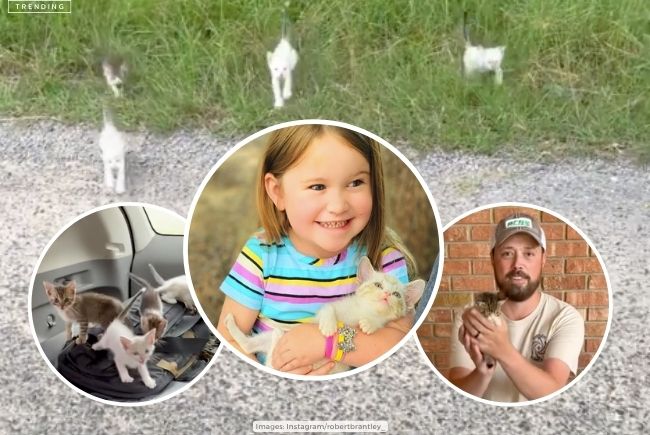 It was the cutest ambush ever, and now these abandoned kittens are finding their forever homes
There's an adorable update to last week's viral video of the man who rescued a litter of kittens that had been dumped on the side of the road.
Which is great, because honestly we can't get enough of this feel-good story. Get ready for an overload of cuteness!
Article continues after this ad
Advertisement
We have a kitten problem
In case you missed the video, Louisiana man Robert Brantley saw a tiny kitten on the side of the road and stopped to pick it up, fearing it would be run over and killed.
He filmed himself lifting the kitten into the air, and as he did, a swarm of kittens leapt out from bushes and ran to him.
Not only was it the cutest kitty ambush ever, but the internet was also delighted with the man's exclamations of "we have a kitten problem" and "hot diggity dog!".
Catastrophe averted!
Article continues after this ad
Advertisement
The tactical Honda was not prepared for this!
Robert thought he was saving just one kitty, but managed to herd the other 12 kittens into into his car to take home. He was driving to a shooting range and said his car was full of tactical gear and definitely not kitten-friendly.
"I couldn't keep up with them as I would throw one in and 2 would jump out," he wrote in a second post. "So I had to close the door with the window down and funnel em in. That would have been good footage actually."
Article continues after this ad
Advertisement
Robert and his wife and kids have been lovingly caring for the new crew, including getting them checked by the vet and administering medicine, giving them a bath and having playtime in the yard. Inside the house they have their own 'kitty corral' play area and kids have even been dressing them up for photoshoots!
Finding their forever homes
Article continues after this ad
Advertisement
But as much fun as Robert and his family are having with their new friends, they've instantly become an unofficial cat adoption agency and have been working hard to adopt the kittens out. Several have already found their forever homes.
However Robert might not be cat-free forever. He explained in another instagram post that other people who have found abandoned litters have reached out to him for help to find homes for these other kittens too.
"You're like "the cat guy" now. It'll be much easier if you don't fight it," wrote one commenter.
Article continues after this ad
Advertisement
From ace rifle shooter to ace kitten foster
Robert works in the gun industry and he's had comments from people who were very negative about that, but the overwhelming majority of people were overjoyed at his good samaritan act.
"A lot of people, which I'm very thankful of, has said, like, 'Wow … I'm surprised you're not such a violent person' or 'You still have compassion and stuff,'" he told NPR.
"I love that your Instagram has very quickly gone from gun content to cat…. I'm here for all of it," one Instagram commenter said, while another wrote, "And so it begins….. from ace rifle shooter to ace kitten foster."
Be sure to give Robert a follow on his Instagram page as there's sure to be more cute kitty updates!
Article continues after this ad
Advertisement