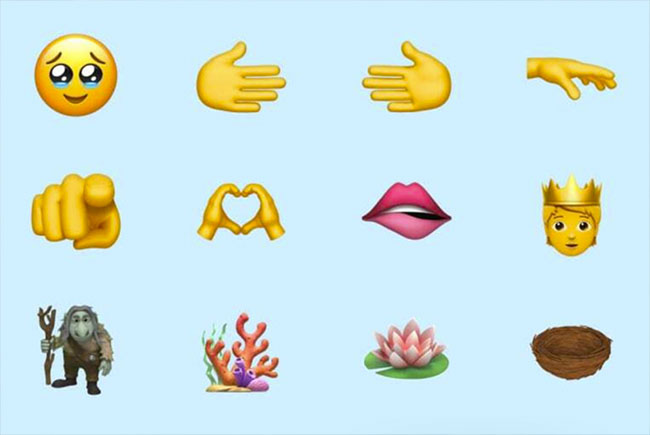 The upcoming iOS 15.4 update for your Apple devices is bringing some cool new features, including being able to unlock your phone while wearing a mask. (Take that covid, how annoying is it to put in your passcode every time you need to pay for something on your phone these days!?)
But we're most excited about the 37 new emojis that will launch with the full release.
The new emojis were previewed last year and now they're finally approved and part of the beta release available to developers. The full release for all ioS users is expected to come in March or April this year according to Emojipedia. They also say these emojis are already available on many devices that are running Android 12L, though Samsung devices likely won't receive these emojis until later in the year.
Article continues after this ad
Advertisement
Emojipedia has provided a first look at the new additions, which include a melting face, a hand making a heart, a troll, a playground slide, crutches, an x-ray and a mirror ball. There's also a ton of handshakes in different skin colours and combinations.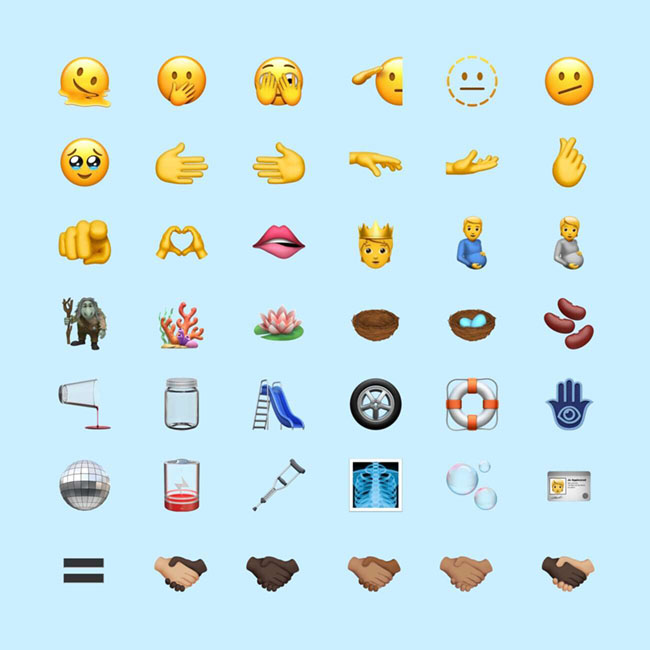 Image: Emojipedia
There's seven new faces to choose from, including a weird half salute.

The hands peeking through the eyes will surely be used a lot, while the face with tears welling up at the bottom of the eyes can be used to express "sadness, anger, embarrassment, admiration, and gratitude" so you'll get some good use out out of this one too. And finally we use the angled mouth to show "skepticism, confusion, or frustration" properly instead of typing it as : /
The dotted line face is said to represent someone feeling invisible or hidden, but also "isolation, and depression". Definitely a vibe in these covid times. And you can always use the buoy to throw them a lifeline and let them know you're there.
Article continues after this ad
Advertisement
The melting emoji describes my mental health

— Upper Broke Bracket (@8ighth__) January 27, 2022

We love the hands making a heart and the relaxed vibe of the lotus flower as well as the Hamsa symbol (the eye in the hand) which Emojipedia describes as representing "luck, protection, guidance, feminine power, and faith, among other meanings" in various religions. Yes please, we'll take some of that.

The low battery symbol is definitely relatable, and we're liking the troll (we can see this being used in a few heated discussions) and the fun disco ball. There's also a pregnant man, included in the interests of gender inclusivity, though the internet has its own interpretation of what it could also mean:
So glad they added a beer belly emoji for men

— Blake Myers (@stuntdawg77) January 27, 2022
Article continues after this ad
Advertisement
Man who just won an eating contest emoji

— Oishi Knight (@nitespartin) January 27, 2022
Even with the updates, there's still quite a wish list for emojis – is there an emoji you'd love to see?
when are you including redheads within the rest of the people emojis ☹️

— Minimum Viable Human (@gabrielasalinas) January 28, 2022
Still no hiker or peas in a pod 🙄

— it's pronounced NAY-oh-me (@naomisarahyman) January 28, 2022
Article continues after this ad
Advertisement
When will there be an Aboriginal flag and a Torres Strait Islander flag ????? 🖤❤️💛 💙💚🤍

— Zoe 🍄 (@zoesiimpson) January 28, 2022
Main image: Emjojipedia