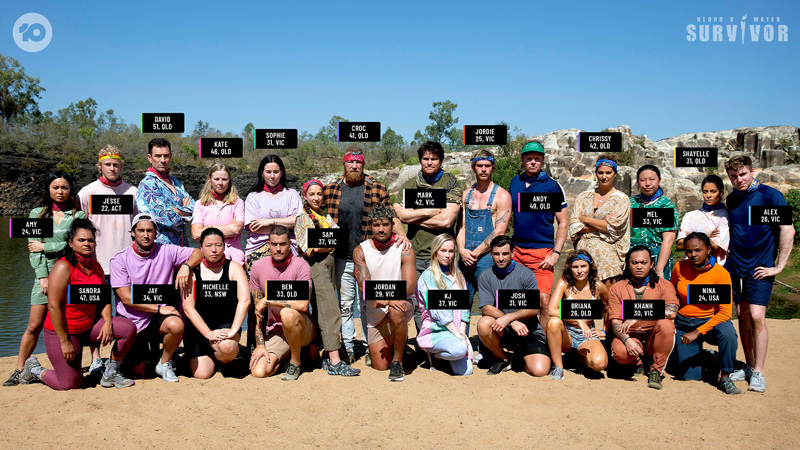 Twenty-four castaways will battle it out for the title of Sole Survivor in 2022 on Australian Survivor's newest season, "Blood V Water" which premiers on Monday the 31st of January. This season brings siblings, couples, in-laws, parents and children to the mix, with the Blood V Water theme putting family and friends head to head to get to the end adding even more complexity to the game.
Into the lead up of the premier, Australian Survivor has already announced some big names competing in the game from ex survivor couple Mark and Sam and even international two-time Survivor winner, Sandra Diaz. Now it's time to meet the full cast of Australian Survivor 2022, Blood V Water.
Article continues after this ad
Advertisement
---
Alex, 26, Warehouse Operator, Victoria & Jay, 34, Drummer, Victoria
In-Laws
Both from Victoria, Alex (26) is a Warehouse Operator and Jay (34) is a drummer and trainer. Jay is dating Alex's sister and will now put their relationship to the test. Alex is a super fan of the game wanting to make moves whilst flying under the radar and Jay is more relaxed but also determined and competitive.
---
Amy, 24, Beautician, Victoria & Khanh, 30, Restaurateur, Victoria
Siblings
Article continues after this ad
Advertisement
Viewers may remember restaurateur Khanh as a contestant on Masterchef Season 10 and Season 12 (Back to Win) but now he's here to win the title of Sole Survivor. Khanh brings his younger sister Amy who wants to make a name for herself after living in her older brother's shadow.
---
Andy, 49, Advertising Consultant, Queensland & Kate, 46, Stay-At-Home Mum, Queensland
Siblings
Survivor watchers may remember Andy from Champions V Contenders. His sister Kate pushed him to apply originally and now it's her turn to make her own mark on the game. Andy returns for a shot at redemption and will use his skills as a professional poker player to play the game. This time around he wants to play a more honest, fun and good-natured game.
Article continues after this ad
Advertisement
---
Ben, 33, Tradie / Photographer, Queensland & Shayelle, 31, Bio Medical Student, Queensland
Partners
Shay says about having her partner in the game: "Having him there will be priceless in terms of support. I struggle to not get caught up in my emotions sometimes, so I have to force myself to think my way out of it." Ben is a standout in the crowd kind of guy, standing at 6'4", and wants to be a challenge beast and also a trusted tribe mate.
---
Chrissy, 42, Teacher, Queensland & Croc, 41, Ex-NRL Player, Queensland
In-Laws
Chrissy doesn't have a lot of Survivor knowledge but is there to play Survivor as a part of Crocs dream. Croc's strengths are his observational skills and his physical strength and will aim to build genuine relationships. Chrissy is competitive and confident and wants to inspire her kids.
Article continues after this ad
Advertisement
---
David, 51, Project Manager, Queensland & Briana, 26, Digital Producer, Queensland
Father & Daughter
Briana says playing Survivor is a dream of hers and her dad is going to lay down the law while she is an entertainer and social butterfly being a presenter, writer, producer and professional roller skater. David knows himself to be very strategic as a project manager at a construction firm.
---
Jesse, 22, Triathlete, ACT & Jordie, 25, Landscaper, Victoria
Brothers
Article continues after this ad
Advertisement
These brothers claim to be the polar opposites of each other but their tight bond means they are the perfect team. Jordie is a landscaper by trade and is used to digging holes and getting himself out of them. As a professional triathlete in training, Jesse is used to testing his endurance and finds comfort in pain pushing through physical and mental boundaries.
---
Jordan, 29, Personal Trainer, Victoria & Josh, 31, Pilot, Victoria
Cousins
Cousins Jordan and Josh say their relationship is closer than most brothers. As a strength coach and entrepreneur, Jordan is willing to push himself physically and mentally whereas airline pilot Josh considers himself a Survivor armchair expert and is keen to see if he can play the game physically, socially and strategically.
Article continues after this ad
Advertisement
---
KJ, 37, Ex-Flight Attendant, Victoria & Sophie, 31, Company Director, Victoria
Sisters
Superfan Kate (KJ) is excited to play with her younger sister Sophie after meticulously watching past seasons. The sisters are two very different people but will aim to use each other's skills to further them in the game. Sophie is a driven businesswoman who doesn't take no for an answer and KJ's Survivor super knowledge is her advantage. Sophie says, "I know how well prepared KJ is so I'll be going to her for advice, strategy, gameplay, what I would do in a certain situation."
---
Mark, 42, Ex-SAS Commander, Victoria & Sam, 37, Endurance Athlete, Victoria
Husband & Wife
Article continues after this ad
Advertisement
Past Australian Survivor Season 2 contestants return after meeting each other in their original season and falling in love. After starting a family together, the two are back to play the game after learning from their mistakes. Mark says he thought being fit and strong would win him the game but realised that the social aspect was important too. Sam says she will keep composed and calm and says the game is a marathon and not a sprint.
---
Mel, 33, Chiropractor, Victoria & Michelle, 33, Speech Pathologist, NSW
Identical Twins
Identically twins Mel and Michelle have a special twin connection and know what each other are thinking and can even feel each others pain. Mel is a Survivor superfan, a keen strategist and loves the psychology of the game. A social butterfly, she makes friends easily and wants to make strong alliances to build her game. Michelle's expertise in communication with her career means she prides herself on catching people out on their lies. Her understanding of human behaviour will be a strong asset to her game.
Article continues after this ad
Advertisement
---
Sandra, 47, Queen of Survivor, USA & Nina, 24, Accounts Clerk, USA
Mother & Daughter
Survivor superfans will know Sandra as the Queen of Survivor. She's the first-ever two-time winner, winning the title of Sole Survivor of two US seasons, Survivor: Pearl Islands and Survivor: Heroes vs. Villains. She also completed on two other seasons; Game Changers and Winners at War and was a mentor for Island of the Idols. Known for her sassy and outspoken personality, she's ready to take the crown for the third time now in Australia. Sandra is excited to be playing with her daughter Nina who is ready for the challenge to break out of the shadows of her mother's Survivor legacy.
---
This years season was filmed in Charters Towers, Queensland after last year had to be filmed in Cloncurry, Queensland due to COVID restrictions limiting filming in the original location of Fiji. The latest season will again be hosted by Jonathan LaPaglia and the 24 castaways will try to last 47 days in harsh Australian conditions to become Sole Survivor.
Article continues after this ad
Advertisement
Will bonds be broken? Australian Survivor: Blood V Water starts on Jan 31, only on 10 and 10 Play On Demand.
---
Image Credit: (@SurvivorAU / Facebook / Channel 10)