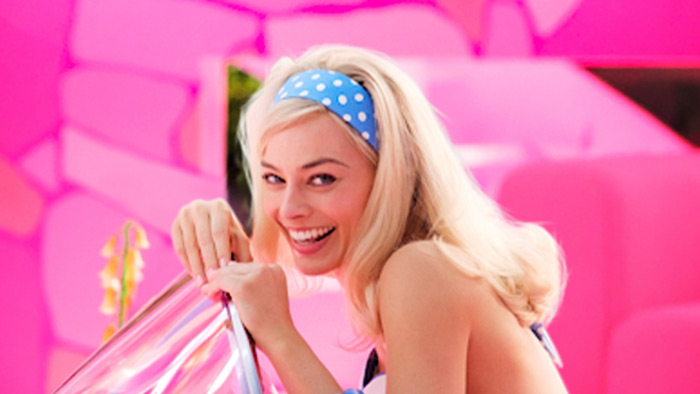 Come on Barbie, let's go party! Warner Bros. Pictures has released the first look at Australian actress Margot Robbie as Barbie in the upcoming Barbie movie set for release in theatres in 2023.
In the first official photo released, Margot Robbie stars as the title-lead character and is pictured seated in a hot pink convertible. Dressed in a blue and white striped halter top, with a blue polka-dotted headband and blue beaded bracelet, Barbie is captured smiling at the camera.
#BARBIE
July 21, 2023
Only in theaters pic.twitter.com/mauCGpizD1

— Warner Bros. Pictures (@wbpictures) April 26, 2022
Article continues after this ad
Advertisement
Directed by Greta Gerwig (Little Women, Lady Bird, Frances Ha), the film has a star-studded cast with Ryan Gosling starring alongside Robbie as Ken. Will Ferrell will reportedly play the role of the CEO of a toy company and the cast also includes America Ferrera, Michael Cera, Simu Lui, Emma Mackey and Kate McKinnon.
— mediafilm – by filmupdates (@cravemedia_) March 22, 2022
Robbie was officially announced to star as Barbie on Tuesday, January 9th in 2019. In an interview with Vogue in 2021, Robbie said about the movie:
"Right, it comes with a lot of baggage!" "And a lot of nostalgic connections. But with that come a lot of exciting ways to attack it. People generally hear 'Barbie' and think, 'I know what that movie is going to be,' and then they hear that Greta Gerwig is writing and directing it, and they're like, 'Oh, well, maybe I don't…'"
IMDB has shared the synopsis of the film, although the full plot of the film hasn't been officially confirmed:
Article continues after this ad
Advertisement
"A doll living in 'Barbieland' is expelled for not being perfect enough and sets off on an adventure in the real world. A Live-action feature film based on the popular line of Barbie toys."
Greta Gerwig with the cast of 'BARBIE' – Issa Rae, Simu Liu, Scott Evans, Ncuti Gatwa, Emma Mackey, and more! pic.twitter.com/0SDelCLh7r

— Film Updates (@FilmUpdates) April 24, 2022
Production began earlier this year with filming in London and the film is set to be released in cinemas on July 21st, 2023.
Image Credit: (@wbpictures / Twitter)