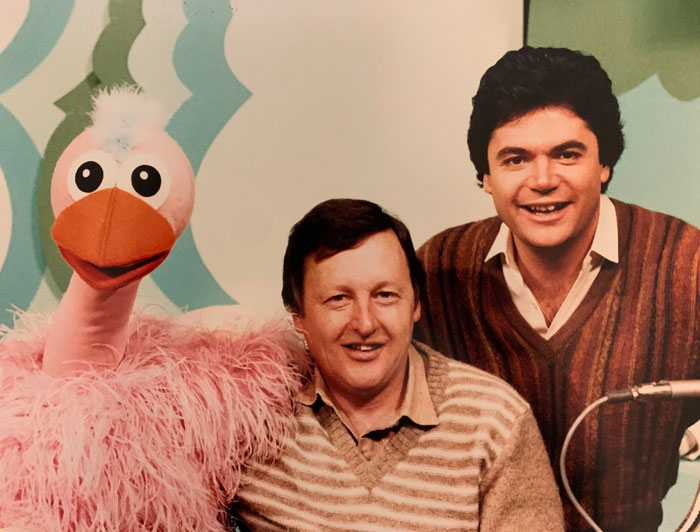 Beloved Australian television entertainer and pioneer, Ernie Carroll has sadly passed away at the age of 92. Carroll is known as a pioneer of early Australian television, most famously for creating Ossie Ostrich on Hey Hey It's Saturday.
Hey Hey It's Saturday host, Daryl Somers announced the sad news of his beloved friend and mentor on the Hey Hey It's Saturday Facebook and explained Carroll passed away peacefully on the morning of Wednesday the 30th of March, 2022.
He was surrounded by his family and died of natural causes in his retirement village unit at Racecourse Grange Aged Care in Mornington, Victoria. He was 92 years old.
Article continues after this ad
Advertisement
Carroll was born on the 26th of May in 1929 in Geelong and made his start in entertainment in radio. He was known in the 50s for his work on Geelong radio station 3GL and his first role in television was in Melbourne at GTV9 as a children's television producer.
He was known for his many talents, from being a cartoonist, camera operator, sponsor liaison officer, producer, illustrator and narrator and writer.
Carroll is most famous for creating the character of Oswald Q Ostrich (Ossie), who was Daryl Somers sidekick on Hey Hey It's Saturday. Somers thanked Carroll for the early guidance of his career, allowing him to audition as the host on Cartoon Corner in 1971.
Hey Hey It's Saturday ran for 28 years, from 1971 to 1999. Carroll played the role of Ossie until he retired in December of 1994 and reprised his role in 2009 for the Hey Hey It's Saturday reunion special and also returned in 2010.
Carroll had lived at his retirement unit with his partner of almost 50 years, Miffy Marsh and is survived by their daughter Lynne and son Bruce. The family has requested privacy at this time.
Article continues after this ad
Advertisement
Image Credit: (Hey Hey It's Saturday / Facebook)