Steve is a cheater and Jenny wants everyone to know, with a pub now weighing in on the drama with an apology
If your name is Steve or Jenny, you probably had some wisecracking friends make a few jokes about your relationship this week. Or maybe they were giving you some serious side-eye.
You see, a guy name Steve got called out for his filthy cheating ways in a bold, full-page newspaper ad taken out by Jenny, his scorned lover/girlfriend/wife.
Article continues after this ad
Advertisement
The ad on page 4 of the newspaper in Queensland said: "Dear Steve, I hope you're happy with her. Now the whole town will know what a filthy cheater you are. Fom Jenny. PS. I bought this ad using your credit card."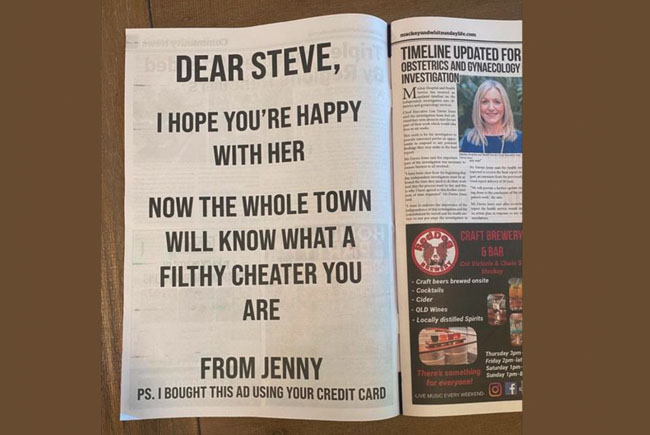 Image: Facebook/mackayandwhitsundaylife
The cost for this kind of ad is reported to be between $1,500 and $2,000.
The newspaper, Mackay and Whitsunday Life, was forced to post about the ad on their Facebook page after being inundated with messages after it went viral. In their post, they said:
"1. We do NOT know who Steve is, but apparently he's been very very bad.
2. We won't be revealing any details about Jenny.
3. We have not charged the credit card in question."
Article continues after this ad
Advertisement
Their post has had nearly 7,000 reach and nearly 4,000 comments, with several commenters called Steve quick to profess their innocence and clarify they are not the Steve in question.
There was also a comment from a Jenny whose partner is Steve: "So all my friends are aware. I am not the legend 'Jenny' and my 'Steve' has not been bad."
Plenty of people had praise for Jenny's tactics as well.
"You go Jenny…love your work," wrote one Jenny. "#belikejenny," wrote another.
"You seem very intelligent and creative Jenny, you will be just fine!" one commenter wrote, while another noted: "See how Jenny blames Steve for his decisions and leaves the other woman out of it? Jenny seems like a good woman."
Article continues after this ad
Advertisement
And the Greater Whitsunday Distillery, located near Mackay, offered up a consolation, writing in the comments: "Hey Jenny, if you're reading this send us a message! The next round of drinks with the girls is on us!"
Pub in Adelaide offers an apology
Now a pub in Adelaide has weighed in and apologised to Jenny on behalf of all the Steves out there.
"Dear Jenny, I'm sorry. From all the Steves," stated the sign. The pub's Facebook page explained that their Duty Manager is named Steve, so they let him write the message for the day.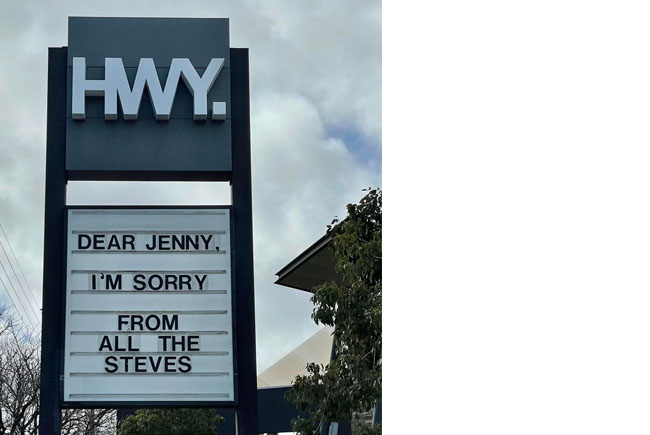 Image: Facebook/hwyhotel
Article continues after this ad
Advertisement
But was it just a publicity stunt?
Some people were cynical about the ad, though, wondering if it was just a way to get some publicity for the newspaper.

"A work of fiction created as a publicity stunt," said one person, while another wrote, "The word on the street (in Queensland) is it was a scam/publicity stunt….. Either way it was clever!"
Whatever the truth is, one commenter found a positive in it all: "Oh well at least Karen's will get a break for a while."
Article continues after this ad
Advertisement
Article written by Nicole Alley