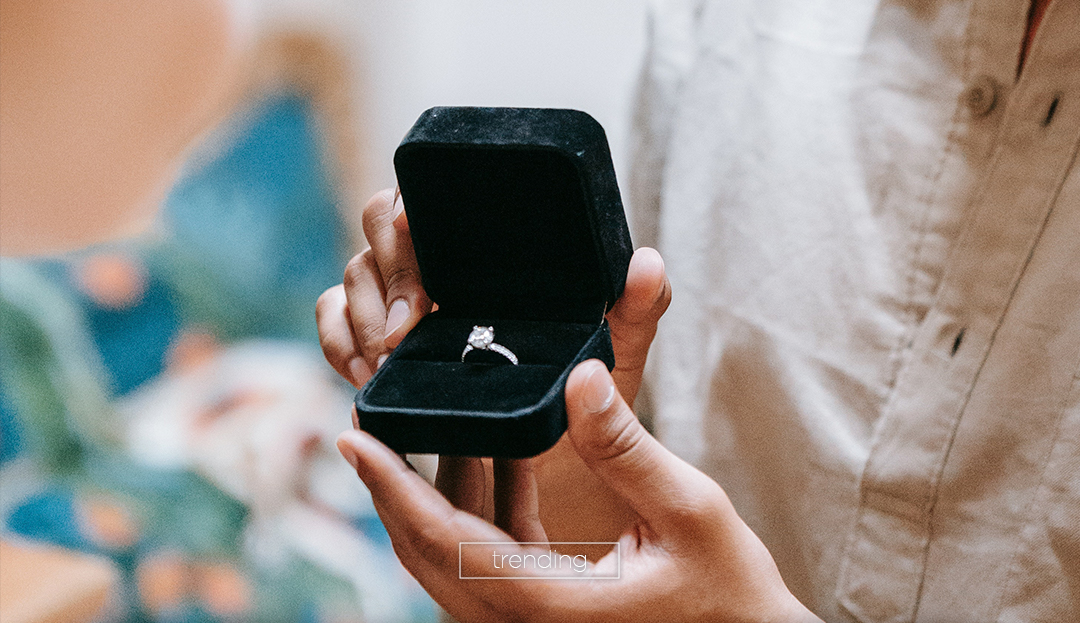 The internet is upset with this guy for proposing to his girlfriend at their friend's wedding, so is it a big deal?
---
We love a romantic engagement story as much as the next person.
Candles or sunsets, in fancy clothes or trackpants, a grand gesture or a simple loved-up moment (all minus the drinking of each other's blood, looking at you Megan Fox).
But, one man has come under fire for how he decided to pop the question, and we're on the fence about it.
He proposed at somebody else's wedding.
Thankfully, the bride was in on the secret, and was responsible for setting up the big moment during the bouquet toss near the end of the night. 
Instead of throwing the flowers above and behind her head, the bride turned around and walked them directly over to her friend.
Baffled, anxious, and seemingly on the verge of excitement-tears, the girl can be seen asking the bride, "you're giving it to me, why? Whyyy?".
When she turns around, her man is down on one knee, ring box in toe.
So this begs the question, is it okay to propose at somebody else's wedding or is it a stealing-the-limelight move?
Is it rude to propose to someone at someone else's wedding?

— GHASTLY(◕,,,◕) (@Ghastly) January 31, 2018
While many viewed the ordeal as quite special, other watchers were outraged saying, "It's a hard NO. Not fair on the couple and their day."
"I'd be like 'hell no'! You can not propose to her at my wedding... I don't care if she is my best friend! Nope, it's my day bro," one user wrote.
While another user posted, "I don't like this idea!".
"That is rude but beautiful at the same time hahahaha," said another.
While it's clear A LOT of people wouldn't appreciate a gesture like this performed at their own wedding, the majority have given it their stamp of approval.
"This was obviously organised with the bride, groom and the friend," one user responded.
Another viewer added, "The ONLY time it's appropriate to propose at a wedding is if the bride is in on it too. Otherwise you can catch these dearly beloved hands trying to propose at my wedding."

"I'm not sure why everyone hates this," one follower responded. "I think it's beautiful and it shows a lot of love and support from the bride herself!".
Continuing the support, another user wrote, "Honestly I love the idea of a bride and groom choosing a couple to get engaged."
"It seems so lovely to pass that love down the line. Every wedding is a celebration of love, there's a couple in the middle of it but it makes it so special knowing you're surrounded by loving people."

The folks over on Twitter aren't so sure, with 64.2% of voters responding to the question, "Is it rude to propose to someone at someone else's wedding?", with "Yeh, it's not about them."
ehh yeh i think that one is a
'probably shouldn't do' haha

not sure why you would want to throw away your one proposal and do it at an event specifically to celebrate two other people's marriage haha.

i'm sure there's occasions it might seem appropriate tho!

— INF1N1TE (@INF1N1TEMUSIC) January 31, 2018
What's your verdict? Is it okay to propose on someone else's big day?
Image: Anna Pou / Pexels