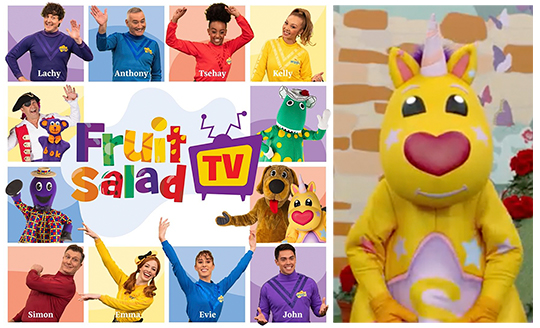 Four extra members and a handful of new characters have been introduced to The Wiggles family in a bid to diversify the team.
For decades, multiple generations have enjoyed the child-friendly antics of the four Wiggles, but now the crew is doubling in size!
The Wiggles took to social media to make the announcement.
"For the first time ever, #TheWiggles have expanded their line up to eight Wiggles, which is sure to double the fun!", the Instagram post reads.
"Seeking to inspire a diverse audience with its gender balanced and diverse cast, Fruit Salad TV is sure to put a smile on the faces of children all around the world who see themselves reflected on the screen."
Marking the biggest shake-up The Wiggles have ever undergone, the new YouTube exlusive titled 'Fruit Salad TV' will premiere on the platform on Saturday 4th September and is "there to inspire and delight children from all around the world."
There is however one thing almost more surprising than finding out that our beloved childhood TV family is evolving: One of the new members is from Aussie dance troupe, Justice Crew.
The new purple Wiggle is actually John Pearce, and is pegged as the fit one, working a dumbbell while being introduced.
JUSTICE CREW JOHN IS A WIGGLE NOW? pic.twitter.com/SSFkFdT4xU

— JUPITER 🌸 check 📌 (@seolarjupiter) August 22, 2021
The other three new recruits include the group's first ever Indigenous member, Evie Ferris in blue, Kelly Hamilton in yellow, and Tsehay (pronounced sah-hi) in red, who is the youngest of the group at just 15 years old.
You'll also see some other friendly new faces on-screen with dancing Officer Beaples, Bok the hand puppet, and Shirley Shawn the non-binary unicorn.
Image Credit: The Wiggles / Instagram