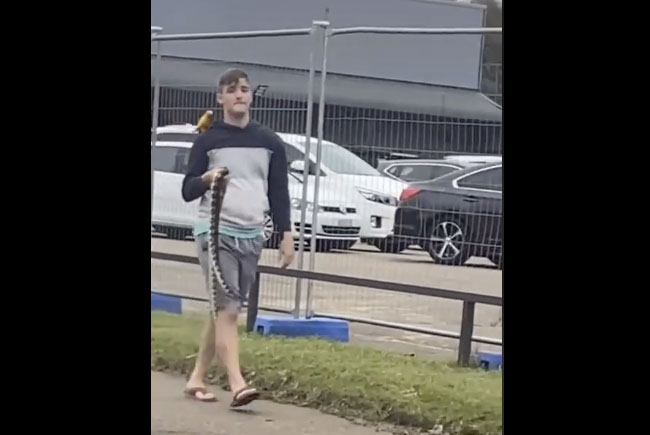 What's a danger noodle? Why a snake of course!
The phrase "Only in Australia" keeps heading in crazier directions.
The latest example is a guy taking his pet bird and snake for a walk along a suburban street.
Because why not right?
The pet outing was captured by Tik Tok user hayleyroben as she sat in a car with friends.
The footage shows the guy walking in thongs - important for any 'only in Australia' moment - with a yellow bird on his shoulder and a snake in his hand.
And he looks like he's having the time of his life, dancing and singing along to some song real or imagined. The bird is balancing expertly and it's hard to tell what the snake is thinking, it's just hanging there like a random length of rope.
We hear "Are you kidding me!" amidst lots of laughter.
The guy then causally swaps the snake to his other hand, and pulls out his phone.
And then - gasp - he's now at a crosswalk and needs to press the button to make the lights change, but his hands are full.
So he puts the snake on the ground.
"You're joking," the woman filming exclaims.
Then laughter again as the guy picks up his snake and resumes dancing.
Watch it here: (Language warning)
"Surely that's illegal," is the question on their mind.
Maybe it is.
One person commented, "Please don't think it's okay to handle a poor danger noodle like this!!"
And now "danger noodle" is the only thing we'll be thinking when we next see a snake!
Image: Tik Tok user hayleyroben