A conscious effort to Think, Shop, Buy Local is at the heart of a thriving community.  And, there's no better time than the Christmas season to spend your money with local businesses across the Far South Coast.
Save yourself time and money and check out what these local businesses have on offer!
You'll find deals that will help you make your hard-earned cash go further plus unique ideas for gifts – experiences that will create life-long memories and unique, handcrafted items that you won't find anywhere else.
Your choice to shop close to home can be the greatest gift of all!
Narooma Bridge Seafoods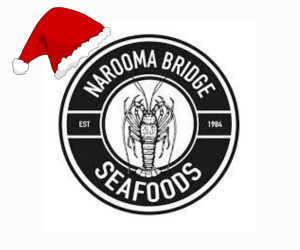 Located

Shop 2/36 Princes Highway
Narooma NSW, 2546

Contact Information

Phone: 02 4476 1586
Website: Visit
Narooma Bridge Seafoods is a locally owned and operated family business. Owner, Ben McCulloch has been fishing in the Eurobodalla for over 20 years and has extensive knowledge of the South Coast Fishing Industry. He is regularly seen leaving the bar at Narooma on his vessel the "Talisman".
We are geared up to fish for many species to give our customers a large range of freshly caught fish all year round. Some species are seasonal so please don't hesitate to contact us to find out what we have in store. Our specialty is the Eastern Rock Lobster. We are the biggest supplier from Ulladulla to the Victorian border and our Lobsters are kept live in saltwater tanks and cooked fresh daily. Eastern Rock Lobsters are seasonal and run primarily from December to May each year.
Our Christmas Order Books are now open! If you would like to place an order or if you have any questions please give us a call on (02) 4476 1586 or send us a message via our socials!