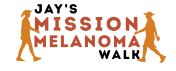 Jay's Mission Melanoma Walk
Jay Allen is the *Melanoma Man* of Australia and has an organisation called Australian Skin Cancer Foundation.
He has successfully managed to have sunbeds banned across Australia, he has managed to raise funds to create a Melanoma Mole Mapping Truck and crew on the road to visit regional towns and raises a hell of a lot of Skin Cancer awareness and funds. Jay has almost lost his life 3 times, battled serious Melanoma cancers but still conquered on and is committed to finding a cure and raising awareness.
Commencing 18th November, Jay is doing his Annual 14 day Walk, *Jay's Mission Melanoma Walk* – Merimbula to Port Melbourne. The skin check truck follows him, and the community is invited to visit for FREE Skin Checks and Mole Mapping services. He also desperately still needs funding support, not only to assist in their accommodation along the way, but to assist with fuel and food etc.
For more info and to donate, visit: https://jaysmissionmelanomawalk23.raisely.com/